Astley & Tyldesley returned to winning ways with a convincing 99-81 win over Edinburgh, in Sunday's Northern League match at Gin Pit.
A & T led by 6 points after heat 3, but Edinburgh were level two heats later after British Super Veteran Champion John Murphy came out for two successive rides. A & T promptly regained the lead and were 8 points ahead at the break. A controlled second half performance saw A & T continue to pull away, to avenge their defeat at Redbraes in April.
Piotr Jamroszczyk (pictured) was the star of the show for A & T, winning all his five races on his first appearance at Gin Pit. He combined wins from four fast gates from grid 4, with a fine pass on Mike Hewitson to complete his maximum in heat 16. Dariusz Pilas also raced unb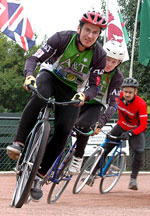 eaten, with Remi Burchardt losing just once, when passed by Hewitson in heat 4. Local youngsters Ben Dickenson and Luke Jamson were in good form, providing strong support to the top trio. For Edinburgh, Jake Slight impressed at reserve, winning three races, with Hewitson riding consistently well with a win and four seconds. The match was ridden in a very sporting atmosphere, with no exclusions made.
Northern League match result
Astley & Tyldesley 99 Edinburgh 81
A & T: Piotr Jamroszczyk 20, Dariusz Pilas 19 (1), Remi Burchardt 19, Ben Dickenson 15 (2), Luke Jamson 12 (1), Andy Knowles 6 (1), Will Evans 5, Matthew J. Turnbull 3.
Edinburgh: Jake Slight 17 (1), Mike Hewitson 16, Gavin Kennedy 12, John Murphy 11 (3), Neil McPherson 11, Tommy Lee 6 (2), Chic Mackie 5, Ian McKinlay 3.
Referee - Gary Nuttall.